Apace Unity & ISIS Offload (UIOL)tm

Mirror, Archive & Workflow Resilience

……… Making Unity better

Workflow resilience
Data protection in high-speed RAID 6
Ubiquitous content access via Ethernet
Real-time collaboration editing environment for DNxHD & DVCPRO HD



Apace UOL Offload is a complementary storage system solution for Avid Unity and ISIS.
UOL Offload Hardware/Software suite offers four core media workflow enhancement features:
Online disk-to-disk backup / mirror and incremental archival workflow with instant restore


Real-Time editing and playback for Avid and Non-Avid workgroups


Managed networked storage consolidation for Avid and non-Avid workflows


Expanding access to content from any LAN/WAN IP-based client node.


UOL Offload platform acts as a proxy to Avid primary storage as well as a secondary archive platform via its performance RAID-6 storage offering automated backup, instant restore, alternate workflow during Unity/ISIS downtime, and multiple systems real-time editing directly off of the system, while offering advanced parallel paths of access to its networked storage platform.
UOL Offload benefits:
Workflow Resilience, Content Protection, Data Management & Movement, and Workflow Productivity. UOL Offload makes post-production more productive and your valuable asset safer!
Workflow Resilience
is designed to serve as an alternative workflow independent from Unity/ ISIS.Editors can work off of the system individually and/or in a shared collaboration fashion. It supports multiple streams of DVCPro HD and DNxHD 145. UOL Offload provides a heterogeneous architecture and Ethernet based connectivity to sustain users work, while Unity/ ISIS system(s) is down or its storage is being rebuilt. Once Unity/ ISIS is backed up online, the users can immediately merge their work back to their previous workspace.
Content Protection
is packaged in a high density 4U rackmount chassis with up to 24TB of RAID 6 storage. It has redundant hot-swap drives, fans and power supplies and is built with quality enterprise components for 24/7/365 usage. The architecture and implementation are field-proven and have been deployed through hundreds installations worldwide and with years of real world use in broadcast environment. Raid-6 data protection assures recovery from two simultaneous disk failures and no reduction in system response time during normal rebuild.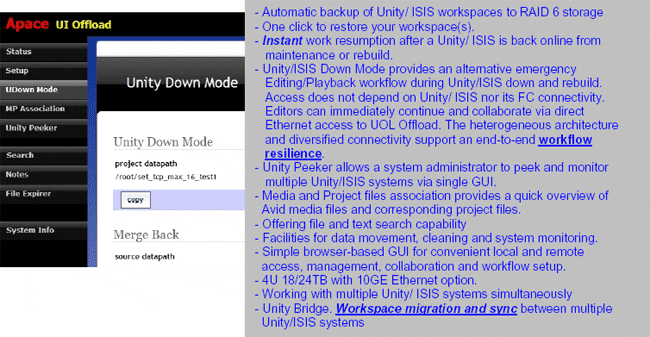 Content Data Management & Movement
is designed via an advanced Web based GUI for management of all aspects of large scale data migration and system monitoring being accessed from the same control panel. The goal of the integrated software tools is to easily access Avid primary storage via tools such as Unity Peeker, allowing intelligent decision making on what content to migrate or retrieve. Specifically, workflow allows for automated and intelligent bi-directional movement of the content from Unit/ISIS primary storage to the disk based archival storage and back for millions of files & terabytes of data quickly & efficiently without impact on your on-going work. Users can protect their content with mirrored RAID 5 or 6, have Ethernet accessibility, and enjoy instant workspace recovery. UOL Offload provides greater accessibility and content availability to the users. The workflow helps in backup / mirroring, archive and shared collaboration with AVID Unity/ISIS storage without concern of data loss even in RAID 0 on Unity. One effective by-product of this flexibility is instant doubling of Avid's usable primary storage space!!!

Workflow Productivity
is enhanced via complete integration of hardware and software tools to seamlessly address entire mirrored workspaces to single file level granular content migration options and enhanced collaboration. By offering cost effective disk based copy of content that is automatically synching OMF and MXF file databases. Also, users have the option to leverage from this digital library to expand access to the rest of the operations workflows from graphics workgroups to trans-coding stations to non-Avid workstations to prepping the data for broadcast purposes. The goal of the UOL Offload is not only to offer archive, but to make the content accessible and usable by the entire organization that may not have direct access to Avid's primary storage systems. Also, all content is searchable at directory, file and text level.