Apace CL Series
Clustered Storage for Real-time Collaborated Editing for Avid, Apple, Adobe, Grass Valley …from……. IEEI.TV
For each "Cluster Block" (CB) comprising of two systems called Cluster Nodes we can support:

Up to 10 Real-time video editing clients per cluster block
40 DVC ProHD, 20 10-bit SD, 20 10-bit ProRes 422, 28 DNxHD, or 28 8-bit ProRes 422 /CB
Up to 48TB of Networked storage per cluster block
Large scale scalability by just adding more cluster blocks.
Option to offer a single Cluster Node that is cluster ready for future expansion
Offering Managed data coherence & Complete Workflow resilience
Apace
CL series is the most advanced storage cluster system platform designed for real-time collaborated video editing environment targeting post production studios and broadcast users. The platform consists of one or two individual 4U rackmount chassis and can support multiple DVC Pro-HD editing clients concurrently and across CL storage systems in real-time for working on the same projects and sharing content. CL series works with Avid, Apple FCP, Adobe Premiere and Grass Valley Edius editing applications. Target markets are large post production and broadcast users that need scalable video editing and collaboration for multiple heterogeneous editing workgroups. Customers can build their cluster starting from one CL system which is half of a cluster block and be able to scale by simply adding more clustered systems from there on to their shared storage workgroup.
CL Series value propositions are:
Handles more concurrent HD video editing users for large projects

Supports project level sharing across multiple storage systems

Scalable for up to 40 DVC ProHD or 28 DNxHD streams and 10 editing clients per cluster block

Workflow resilience to handle a single system downtime per two pair system cluster node

High speed RAID 5 protected data

CL Series storage platform is architected to scale to larger number of cluster nodes while remaining video editing software agnostic. The advantages of this approach are that customers are not tied to a proprietary editing environment and can integrate all their editing, graphics and other related workgroups into the same storage pool. Also, the platform is based on GE and 10GE Ethernet connectivity allowing for inherent advantages of an IP based LAN to be leveraged for ease of deployment purposes.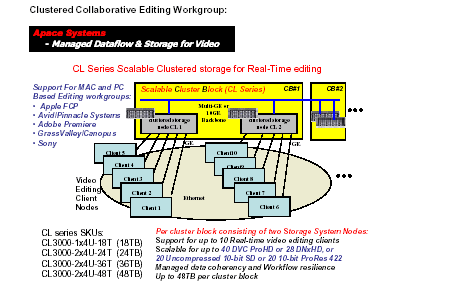 CL series assures Three key benefits:
Very scalable, start from one cluster system node and build cluster block by adding a second system
Built in collaborative real-time editing via offering a virtual networked storage platform
Resilience and content protection at two levels, multi-system level and inter-system RAID-5 level
Simple manageability, leveraging from integrated web based User interface and IP based connectivity

Clustered Collaborative Editing workgroup: