Apace Panasonic P2 Ingester

Intelligent ingest and content management of P2 captured media

Global Instant access, collaboration and interaction with P2 shots!

Server based Media Asset Management ingest workflow for P2 content
Global Browser based access to ingested P2 content
P2 workspace and file structure aware
P2 format aware Metadata entry and access
Database for P2 metadata editing and search
Raid protected with IP network access for captured content



Apace ingester is an intelligent media managed server database software that paired with Apace
Network storage and Apace media asset management called postMAM system offers a complementary
end-to-end workflow platform for ingest and global access and collaboration of P2 based content.
Ingester enables instant ingest of the entire tree structure and associated metadata of P2 into a database
for immediate review, collaboration, search and editing the metadata for further access and edit. Offered
access is via web browser from any authorized client node to ingested content which means that the IP
node can be anywhere in the world.

Ingester workflow offers five core media workflow enhancement features for better productivity:
Instant access to P2 content from anywhere in the world via a browser! Expanding
access to media content from any LAN/WAN IP-based client node without local software and
OS independency.

Database for quick search for large number of P2 media.

Collaboration and communication to support postproduction process enabling immediate
reviewing and screening of captured content via a browser.

Support P2 (allowed) metadata editing.
Managed networked storage consolidation of all P2 content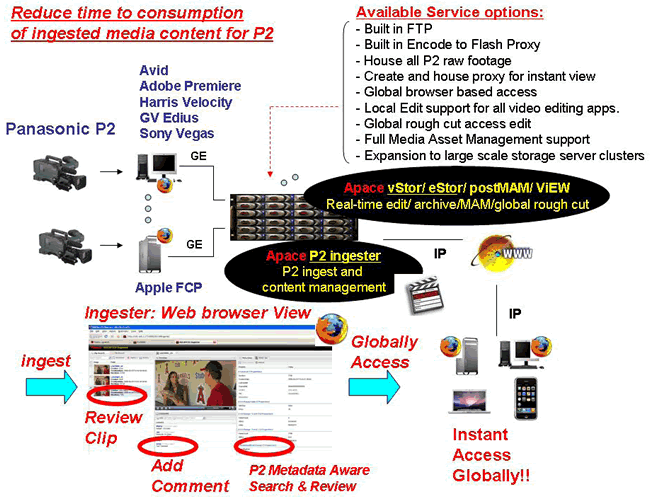 Why Apace P2 Ingester?
Media asset Management approach vs. file based approach:
As media content from P2 shots is ingested there is a need for efficient cataloging, screening and
association of Metadata with content for ease of search and global access. As shot footage increases
exponentially it results 100's of TB that need to be better managed. The file tree based structure of the
footage needs to be best managed with a media asset management approach while enabling:
- Search (or large number of shots management)
- Collaboration and communication with facilitating a review process
- Global and virtualized access (independent from OS and applications)
- Interoperable with editing and MAM applications
- Post-production support (Editing P2 metadata, adding review/ comments to help editors)
- Paired with Apace postMAM media asset management users can add user defined Metadata to content
- Paired with Apace ViEW users can do remote rough cut editing from anywhere in the world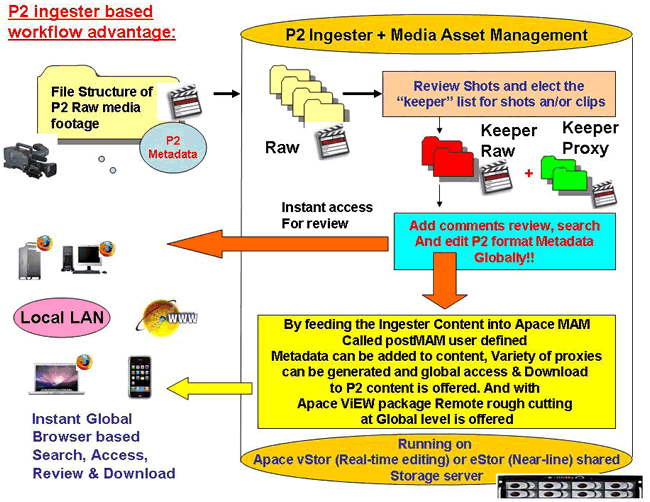 Workflow Productivity by offering a global a global access to P2 generated content, the time to
consumption and interaction with the media footage is drastically reduced. Additionally, flexible metadata
aware content cataloging assures efficiency in content management. Also, by augmenting Apace P2
Ingester with other Apace hardware/software platform suites offers an end-to-end workflow of content
creation, archive and use is facilitated.
Field access by pairing P2 ingest with Apace Ingester and Apace storage system in the field, time of
access of shots captured is drastically reduced as remote headquarters can have instant access for
review and planning purposes.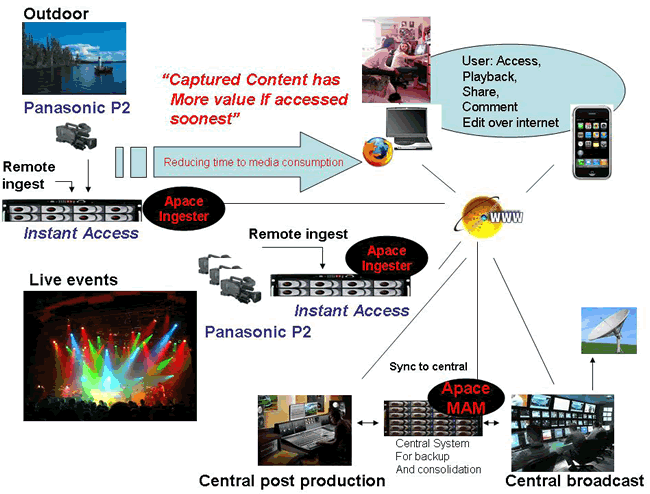 Note: Apace is not an affiliation of the companies listed.