We support the Rich Media World with our Digital Storage and Workflow Solutions.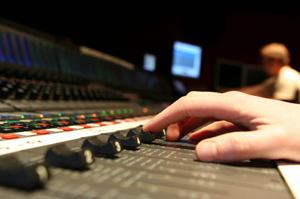 Our customers are Broadcasters, News Production, Animation, Editing suites / studios, Post Production, Special Effects houses, Schools / Educational Facilities, Worship, and HD film scanning companies world wide. These companies find that working with our IEEI Broadcast division is a nice change from dealing with larger, numbers oriented companies. As SERVICE is a main goal, we know you need to ask a lot of questions before you make a purchase decision. We are business consultants, strategists and visionaries as well as salesmen. We offer experience and expertise to each and every customer. We VALUE you!

Rich Media, Video and Graphic, Broadcasters, Television Stations, NEWS, Editing, Media and Entertainment, Rendering, Post and Pre Production, Education, House of Worship, Special Effects, HD Film Scanning and Digital Camera companies: IEEI Broadcast (A Division of IEEI) is a digital storage supplier to this industry. If any industry has changed more over the years, it is Rich Media. IEEI is a California Corporation in its 46th year of business and has been a computer maintenance, integrator and solutions provider the entire time, WORLDWIDE. We know digital. With the transition from analog tape based systems to the new DIGITAL file based world, companies world wide are working with IEEI to get the latest in tested, reliable storage / workflow SOLUTIONS. Not vapor ware but digital storage systems that work! We have a variety of shared media tools that work with: : Avid, Apple FCP, Pinnacle, Adobe, Canopus, Harris, Sundance Digital, Crispin, Grass Valley Thompson, Omneon, Infinity, Harris, Leitch, Sea Change, EVS and Sony to name a few.

IEEI is located in the Media capitol of the world. We are close to Hollywood, Burbank, Chatsworth, and the City of Los Angels. Our location in Orange County and the growth Orange County has in the media space, gives us the ability to work with industry giants, to mid size enterprise to smaller shops. Why spend hours looking for that storage solution you need when you know IEEI can help. We want to know your business and what you want to accomplish. Only then can we offer you viable solutions that can improve workflow, data integrity, and cost savings.

Contact IEEI today, you have nothing to lose and everything to gain.

Video / Realtime Editing / Archive storage for: DV SD HD class Video Render Farms, Post Production, Special Effects HD Film Scanning, Digital Camera, Broadcast, Imaging, Enterprise, SMB, SOHO Supporting: Apple, Avid, Canopus Edius PRO Pinnacle Systems Liquid, Sony Vegas and Adobe Premiere



Ethernet Video Editing Storage
IEEI and IEEI Broadcast is located in beautiful Newport Beach, California